MANDIRIGMA CAMP THAILAND 2017
The Adventurers (The Pirate Ship Foundation Limited) funds research into finding better treatments and ultimately a cure for childhood brain cancer. Team Thailand is raising funds for a critical research project and we need your support.

We have set a bold target of $121,000 to fund the final year of the Brain Tumour Immune Therapy Project at Telethon Kids Institute and, with your help, we firmly believe we can achieve our target.
The Brain Tumour Immune Therapy project complements existing projects within the Brain Tumour Research Laboratory at Telethon Kids Institute focused on new treatments for brain tumours. Why is this important? Traditional cancer treatment involves relatively non-specific cytotoxic agents that kill both cancer and non-cancer cells in a child's developing body resulting in significant long term effects for the child. Immune Therapy specifically seeks to unleash the patient's own immunity to destruct tumours in a very selective and targeted way. This approach has achieved great results in melanoma patients and very promising results are now being achieved in the Brain Tumour Research Laboratory using novel experimental models.
Your contribution will make a huge difference and for that we cannot thank you enough!
MANDIRIGMA CAMP AO NANG, KRABI PROVINCE, THAILAND
WHEN: 20th – 25th August, 2017
COST: $1,000 per person (flights & accommodation must be arranged separately. Estimated cost ~ $1,500)
EXPERIENCE: No experience necessary, medium level of fitness required
TEAM LEADER: MOIRA CLAY A researcher and "seasoned" Adventurer having done the Chamonix Challenge 3 times, Man vs Wild and 3 sky dives. Doing adventures to raise funds for childhood brain cancer research is in her blood! Having completed the Camp herself during 2016, Moira is keen to share this unique experience with her team. Surrounded by the gentle and caring Thai people, she says "I learned so much about myself, my fears, my joys and who I am."
THE YOUNG WARRIORS AFFECTED BY CHILDHOOD CANCER WILL BE IN OUR HEARTS DURING THE CAMP AND BEYOND.
CONTACT: TEAM LEADER | MOIRA CLAY - moira@theadventurers.com.au 0417 863 688 www.theadventurers.com.au
This adventure is for mind, body and soul!
Raised so Far
$0.00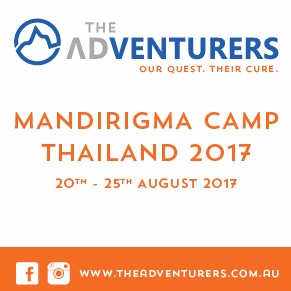 $0.00